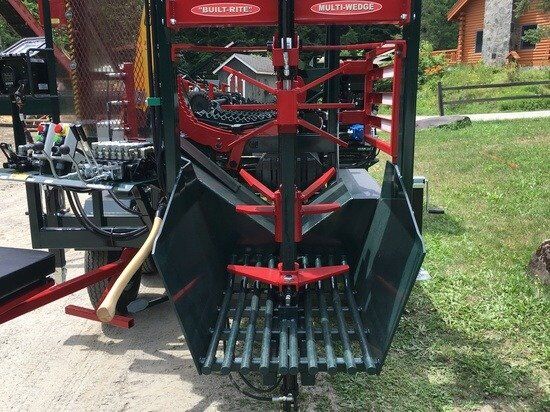 Why Pick Built-Rite?
5 Reasons to Choose Built-Rite
1. We are the innovators of the industry
Here are some Built-Rite Firsts:
– First and only manufacturer to have the Patented Multi-Wedge System
– First and only manufacturer to have the Patented Scissor Clamp design
– First machines with a separator grate
– First manufacturer to build a compact firewood processor. (The first 18 SCP was built in May of 1999 long before any other manufacturer built a small processor)
– First live decks with log stops
– First machines with auto infeed and auto split
– First machines with a block turner for use in the splitter trough
– First machines with a flipper tray to hold last block in place
New for 2015 on all Firewood Processors
– powered infeed rolls to handle the most crooked logs
-All processors have a deep V-splitter trough to center even 3″ block
2. Experience
The Built-Rite team has over 25 years of experience building woodsplitters, firewood processors, and conveyors.
3. Service
– We are a family owned business that allows us to give you uncomparable service.
– When you call Built-Rite you talk directly to the owner instead of a middleman.
4. Superior Product
With our many years of experience in the firewood business we have been able to use customer suggestion and lessons learned over time to fine tune what we believe to be the best, most efficient and most durable firewood processors, woodsplitters, conveyors, and rim crushers on the market.
5. More For Your Money!!!
When you choose Built-Rite dollar for dollar and pound for pound you get the fastest, easiest to operate, most durable machines on the market.
Testimonials
The appreciation of our customers makes all the time we spend perfecting our product more than worth it
I have processed 100 cords of wood since I picked up my processor from you. I wanted to drop you a note to let you know how happy I am with your product. I processed 65 cords for a local dairy farm that also sells some cordwood. They requested that I process 20 cords at first. When they saw how well it worked they had me do 45 more cords. Sounds like this will be a yearly job. Some of this wood had been cut 2 years. I had no problem processing about 1 cord an hour. Please compliment your whole crew on a super product. I can now sleep at night without an aching back. I now look forward to making firewood. Thanks again.
TESTIMONIAL UPDATE
I just wanted to update my last testimonial. I have processed over 300 cords and I have had no problems. When I ordered some new chains and bars your office staff was very helpful. It has been a pleasure to deal with you and I will be contacting you about a wood furnace purchase. Thanks for the great product.
P.S. Feel free to send anyone who is interested in seeing a processor run. I love to do demonstrations.
Sincerely,
Stephen Jambard
I am the proud owner of your firewood processor model 18 SCP-HP. I bought the unit from Hud-Son forest equipment at an AG expo in Malone, NY on Saturday July 29th. I have seen other makes and have heard of other brands that frequently jam. I saw Erik demo this model and it didn't jam once. I have used it for the past two days cutting and splitting over 15 face cords of wood and don't recall having to free anything from a jam. This is a very good processor. Thank you for putting so much time and effort into making a piece of equipment that can truly save time and produce much more profit.
Sincerely,
Dale J. Matthews
We have now used the Built-Rite PTO-1 Firewood Processor for about a month and it's our pleasure to report that your product works even better than advertised.
Yours truly,
Fred Nielson
Just a note to thank all of you for your efforts. On the rare occasion that I need parts for my processor, you ship them immediately, and are very helpful.
Rob Linton
My name is David Oley owner of J&M Tree Service and have 2 Built-Rites plitters and 1 conveyor and can vouch for there more than dependable day in and day out use will not find a better built system on the market today. I have used the competitions and believe me there is no competition Built-Rite wins hands down. Thank you for many years of great service and the best equipment money can buy.
David Oley
As Christmas season approaches, I just wanted to take the time to thank all of you. The decision for my boyfriend to upgrade from a splitter to a processor was a tough one, but he and I couldn't be happier that we did. From the very start, your company has been extremely helpful. The customer service and quality is unmatched. We will never use another company! I was nervous because I thought I would have to go somewhere else for a sharpener, but once again, your company came through. He was thrilled to open that this November for his birthday and even happier to hear it was from you – a place we can trust. I really appreciate all your help. I know that I can feel free to contact you with any questions and you will help me without making me feel silly. Care like that is not something you find very often these days. Thanks again for everything.
Katie Scheetz & Ralph Werner
Hazzard County Firewood '06